Annual Farm to City Expo
March 10, 2015 @ 12:00 PM

-

2:30 PM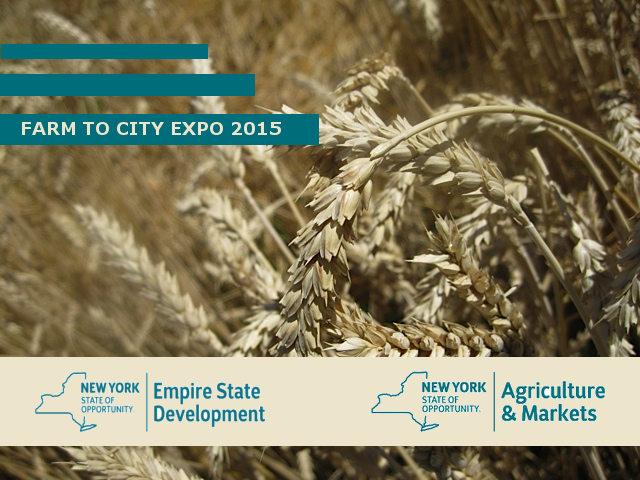 The Farm to City Expo is an annual half day forum supporting local purchasing in the food service industry. When you attend the Farm to City Expo you can discover how buying locally can improve your bottom line.
2015 Forum:
Going with the Grain: The Renaissance of NYS Grain Production
The New York State Department of Agriculture and Markets and Empire State Development are co-hosting the annual Farm to City Expo 2015 at the International Restaurant and Foodservice Show of New York on March 10th, 2015 from 12 pm-2:30 pm. The discussion is called Going with the Grain: The Renaissance of NYS Grain Production, a two panel forum featuring speakers from many ends of the grain value chain.  New York State has been growing grain since 1678 and it's seen a recent increase in production.  In fact, grain can now be found on more tables across the state than ever before. Come hear the ways you can bring local grain to your table!
New York's first seeds of grain were sown on Long Island in 1678 and these golden fields soon created an iconic breadbasket stretching all the way to Western New York.  It may be hard to believe today, but the Empire State, which is known throughout the world for its maple syrup, apples, dairies and wineries, was also once one of the top grain producers in the country.  In the mid-1800s, dehydrated soils, pest invasion, and transportation improvements, contributed to its demise.
Grain production is making a remarkable comeback here in New York thanks to a number of efforts encouraging the use of locally-grown grain.  One important player has been GrowNYC.  In an effort to integrate local grains at their farmers markets, GrowNYC now requires bakers to source 15% of their grains locally.  Knowledge on local grains continues to spread and bakers such as Brooklyn-based Bien Cuit have committed to working with grain purveyors upstate.  Additionally, since Governor Andrew M. Cuomo has taken office, craft beverage laws have been amended and new laws have been enacted to encourage value-added products to be made from grains produced or processed in New York.
Use the code FARMTOCITY for complementary access to the event.